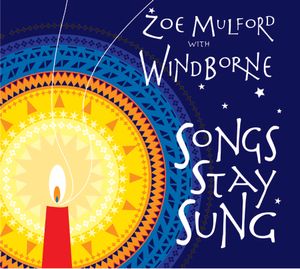 I've wanted to work with the Vermont-based vocal quartet Windborne since I first heard them in 2018. I love their gorgeous vocal sound and the blend of respect, playfulness, and contemporary relevance they bring to traditional music. 
I particularly wanted to see what they could do with "Songs Stay Sung," which at that time was a lyric looking for the right tune. 
Windborne toured England in February, and visited me in Manchester in the first days of March. Over 2 days, we worked out an arrangement and drove across the moors to West Yorkshire to record it in Brian Bedford's stone barn studio. It was the last piece of normal work I did before the pandemic upended everything. 
I wrote "Songs Stay Sung" after fumbling for words to offer several people in my life who had lost loved ones. 
The song will be available as a single on Azalea City Recordings on September 4. 
This is the first completed track of a new project based around collaborations with other artists. I look forward to sharing more of these in the future.